Aišku, bus daugiau nei keli žodžiai… Pirmiausia reik išsiaiškint, ar
Australija yra sala, ar žemynas. Dėl tokių abejonių pirmiausia kalta pati
Australija, kaip šalis, t.y. labai jau neįprasta, kad viena šalis išsidriektų
per visą žemyną. Antriausia, gali klaidinti šalies (kartu ir žemyno) gyventojų
skaičius – niekingi 20 milijonų. Kažkokioj Brazilijoje gyvena šimtą kart daugiau
žmonių. Bet kiekvienam pakliuvusiam į Australiją, greitai tampa aišku, kad čia
yra žemynas, dargi, visai nemažas.
Iš Bali išskridom kovo 5 d., Sidnėjuje nusileidom kovo 6 dieną. Tik
išsikabarojus iš lėktuvo ir praėjus daugybę visokiausių patikrinimų patyrėm
kultūrinį šoką. Po Azijoje praleistų pusės metų, visiškai neįprastai pasijutom,
kad oro uoste nesikabinėja taksistai, apskritai niekas nesikabinėja. Ir šitiek
daug baltų žmonių aplink, kurie į mus nespokso ir išvis nekreipia jokio
dėmesio. Gatvės nebešiukšlinos, automobiliai važinėja mandagiai, pagal
taisykles, yra pėsčiųjų perėjos ir šviesoforai. Čia tik keletas dalykų, kurie
siaubingai sutrikdė. Sunku buvo apsiprast prie tokios tvarkos. Dar sunkiau buvo
apsiprasti prie kainų šuolio. Susiraukę nusipirkom transporto nuolatinius bilietus
savaitei, po maždaug 125 Lt.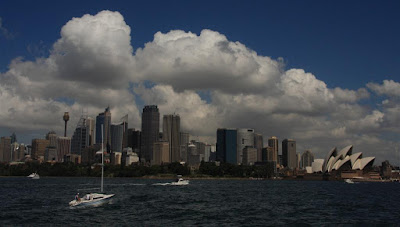 Sidnėjus sąlyginai nedidelis miestas, t.y. Lietuvos masteliu, aišku, kad
čia kažkoks super metropolis, bet kaip eilinė sostinė kažkur pasaulyje, Syndėjus
yra kuklutis kaimelis su 4 milijonais gyventojų. Pirmą dieną truputį vargom,
nes baigėsi tie laikai, kai kur nors nuklydęs gali pasigauti taksą ar kokį
tuktuką, kuris nuveš ten kur reik. Blogiausiu atveju, bent jau rikšą. O Sidnėjuje
rikšų nėra. Taksai, tiesa, yra. Gide buvo parašyta, kad pasivažinėjimas kaskart
vidutiniškai atsieis per 70 Lt. Ką gi, pasivažinėsim gal kitą kart, tą kartą
teko perkąsti visuomeninio transporto sistemą. Nieko ten nebuvo sudėtingo,
traukiniai ir keltai važinėja tiksliai pagal grafiką, visur yra nuorodos ir viskas
labai aišku. Nakvot sugalvojom rajone, kuris vadinasi Manley, ne dėl to, kad
ten yra papludimys ir jūra, o dėl to, kad ten yra vienas iš pigios nakvynės
taškų. Pigių… Reik nukrypt į temą apie mažabiudžetinį keliavimą po
Australiją, kas ir kaip. Iliustruojant Sidnėjum.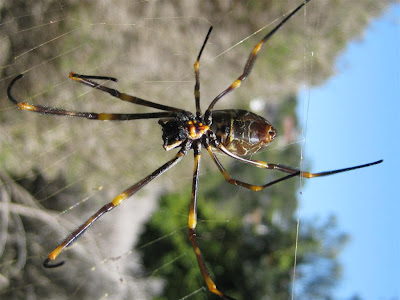 Nemalonu konstatuot, nes tikėjomės esant kitaip, bet vienintelis
normalus keliavimas po Australiją įmanomas tik automobiliu, kurį gali
išsinuomuoti arba nusipirkti (skelbimų apstu). 15 – 20 metų grabas kainuos apie
10 000 Lt, jei tas grabas yra taip vadinamas "kemperis", reik pridėt dar 3-5
tūkt. Automobiliai labai brangūs, bet jei keliauji mėnesį ar du, kas būtų pats
tas, pirkti verta. Automobilis reikalingas tam, kad nuvažiuot į parkus, miškus,
kanjonus ir t.t. Ten jokie traukiniai ar autobusai nevažiuoja. Kai kur važiuoja
turai, tokiu atveju, dienai reik pasiruošt mažiausiai 400 Lt. Traukiniais kuo
puikiausiai gali nusibelst iki bet kokio miesto, bet miestuose visiškai nėr ką
veikt. Na, jei alaus gerimo, atsitiktinių dauginimosi ritualų, poravimosi
žaidimų ir paplūdimių nelaikyti už veiklą.
Automobilį nuomuotis ar pirkti nesistengėm, bet regis, kad teoriškai tai
net nebūtų įmanoma, nes lietuviams, norint vairuoti Australijoje, reikia turėti
tarptautinį vairuotojo pažymėjimą, kurį reikia pasidaryti kažkur kitur, nes VĮ Regitra
jo neišduoda. Tiesa, vienas sutiktas keliautojas dėl tokios problemos nusijuokė
ir pamokė, kad Tailande galima pasidaryti labai daug įvairiausių dokumentų.
Klastočių kas be ko. Bet toks šūdpopieris, kaip tavo vairuotojo teisių
vertimas, tarsi ir nėra labai rimtas dokumentas.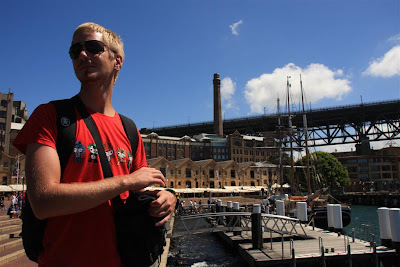 Dabar apie nakvynę (čia tuo atveju, jei nakvosi mieste, nemašinoje.
Hosteliai Australijoje vadinasi Backpackers. Pigiausias stogo virš galvos
variantas yra dormo tipo kambariai, kuomet už vieną lovą, 4 – 6 (o kartais ir
10) žmonių kompanijoje teks pakloti apie 60 Lt. Kambarys dviems, be tūliko ir
dušo kainuos apie 200 Lt. Tas varinatas už 60 Lt per galvą, yra ne kas kita,
kaip gyvenimas bendrabutyje. Yra bendra virtuvė, dušai, tūlikai, skalbykla,
valgomasis ir t.t. Kitas dalykas, kad realiai tai ir yra bendrabučiai, tik ne
studentams, bet studentiško amžiaus jaunimui, kuris dirba kokius nors darbus.
Jaunimas susirenka tiek iš pačios Australijos, tiek iš Europos. Daug prancūzų.
Jiems čia gerai, nes gali išmokti kalbėt angliškai ir sako - atlyginimas
neblogas. Gal ir ne blogas, kiek supratom iš skelbimų, kokioj nors fermoj
rinkdamas uogytes ar kokiam nors ofise kilnodamas ragelį per savaitę užsikalsi
apie 1300 Lt. Jei esi ne Australas, tai išvykęs iš šalies, jei tik dirbai
legaliai, susigražinsi dalį sumokėtų mokesčių. Skamba neblogai, bet be
baisingai jau brangi nakvynė. Butą nuomotis ne ką pigiau gaunasi, be to, labai
jau sudėtinga išsinuomot kokiam pusmečiui. Maistas irgi brangus, tikrai brangiau
nei Ispanijoje, bet vienas sutiktas britas sakė, kad jam čia pigu. Palyginimui
kainos tokioj neva vietinėje maksimoje: papuvę pomidorai ~ 15 Lt/kg, bulvės ~
10 Lt/kg, batonas ~ 6 Lt, patys patys pigiausi makaronai ~ 2 Lt, alus ~ 0.7
l/10 Lt, kokios nors "akcijos" galima susisukt kiek pigiau. Pigiausia, kas gali
būti kabake, t.y. kebabinėje - kebabas ~ 20 Lt. Bet visur jie neskanūs. Tai kad
maisui ir lovai, taupiai būnant, išleidi ~ 700 Lt per savaitę. Dar reikia
pridėti transporto ir kokias nors kitas išlaidas. Taip tad visi ir dirba,
dirba, po to savaitę pakeliauja kur kitur, savaitę ieškosi darbo ir vėl dirba,
dirba, dirba… Work and Travel. Jeigu tu tik Travel, nelabai kas tave čia
supranta. Atmosfera hosteliuose yra bendrabučio tipo. Žmonės tiesiog gyvena ir
dirba, nekeliauja. Ir gyventojų amžius yra labai jau studentiškas… 28 metų
Danielius jautėsi nejaukiai. Pirmą kart gyvenime dėl to, kad yra per senas.
Išvada – reikia keliauti automobiliu, ten kur žmonės nedirba, ten kur
laksto kengūros.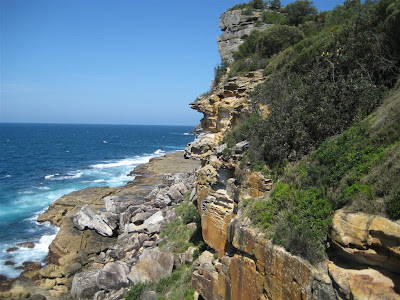 Pabaigus nukrypimą, dabar apie Sindnėjų. Geras miestas. Labai paprasta
suprasti tuos, kuriems Australija yra kas nors, neva, svajonių šalies.
Neperkrautas, ramiu eismu, gerai organizuotu visuomeniu transportu, pilnas
veiklos ir užsiėmimų. Apsuptas gražios aplinkos tiek pačiam mieste, tiek
įkandamais atstumais aplink. Bet juk turi būti koks nors "bet"… Šiuo atveju
tas "bet" - labai paprastas ir labai mažas. Ką Sidnėjuje žino, ten niekad
nebuvęs žmogus? Turbūt 9 iš 10 pagalvos apie Sindėjaus Operos rūmus.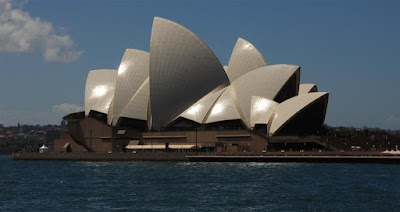 Toks dalykas,
tarsi pasaulinė ikona, kuria kiekvienas yra matęs per TV ar iš paveikslėlio.
Vienas iš dalykų, kuriuos būtina pamatyti Žemėje. Kaip taisyklė, tokie
"pasaulio perlai" nuvilia. Da Vinčio "Mona Liza", Egipto piramidės, Eifelio
bokštas arba Tomas Kruzas. Visi jie panašūs. Visi jie mažiuliukai savo vardo
garsumo atžvilgiu. Sidnėjaus Operos dydis smarkiai nuvilia. Tas kriaukliukas
lengvai tilptų kokiam Karoliniškių kieme, galėtų būt pavėsine besisupantiems
vaikams.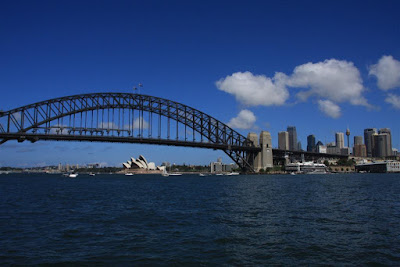 Rajonas, kuriam gyvenom gražutis, nepasiginčysi. Tvarkingas pliažas,
gražios gatvės, nedaug žmonių, viskas labai gerai. Šalia pat parkas, kur
driekiasi 10 km takelis per akis šokdinančius vaizdus. Keista, kad tokia gamta
gali sugyventi kartu su miestu. Čia vaikštant galima sutikt tokius gražius driežus,
prie kurių dydžio neesam pripratę.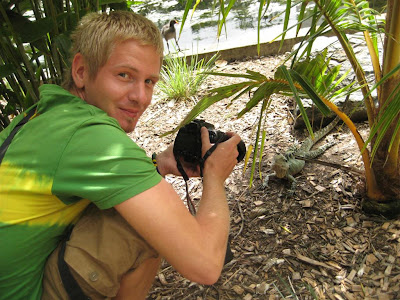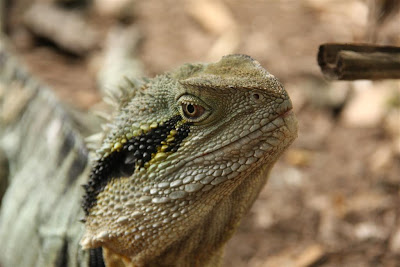 Drakonai tiesiog. Šleivom kreivom kojom.
Labai juokingai bėga, kai išsigąsta. Parkeliu bimbinėjom gal ne tiek ilgai,
kiek derėtų, bet viskas, ką matėm buvo labai vaizdinga.

Lengva ranka pasiekiama, vos dvi valandos kelio nuo Sidnėjaus, yra vieta,
kur gali džiaugtis dar didesniais vaizdais. Blue Mountains ta vieta vadinasi. Iki
nematėm savo nuotraukų, tol nelabai supratom, kodėl čia kažkas pavadinta
mėlynai (Blue Mountains lietuviškai - Mėlynieji Kalnai). Nuotraukos iš
tikro mėlynos. Fizika kažkokia atsitinka. Kalnai baisingai gražūs, nieko
panašaus neesam matę.

Maršrutai pasivaikščioti patenkins bet ką, jei kas mėgsta
vaikščiot, tai reikės kelių dienų viskam apeiti, jei kas tingi ar negali - yra
autobusas, kuris nuveš į vaizdingiausias vietas.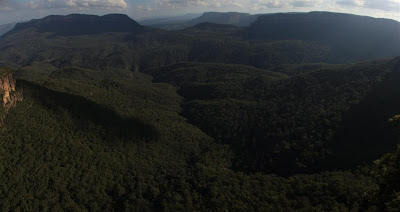 Yra šiokių tokių nesąmonių,
kaip kad asfaltuoti keliai miške, tai visiškai ne į temą ir bjauroja vaizdą.
Dar labiau bjauroja tokia atrakcija, kaip kažkoks keltuvas, kuriuo galima
pavažiuot gal šimtą metrų, bet nelabai aišku, kam tą daryt. Pati karieta,
laidai kuriais ana čiuožia, o labiausiai stotys su varikliais žiauriai bjauroja
vaizdą ir tik reik tikėtis, kad daro minimalią žalą gamtai.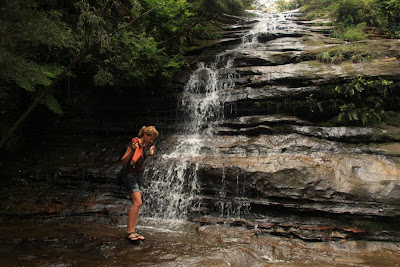 Blue Mountains mums
labai patiko, kaip ir labai patiko vaikščiot purvinomis kelio atkarpomis, tai
leistis tai kilti taku, žiūrėti kriokliukus, nematytus medžius, nematytas uolas
ir akmenius. Viskas čia labai skiriasi nuo to, ką matėm kur nors iki šiol.
Visiškai kitas pasaulis.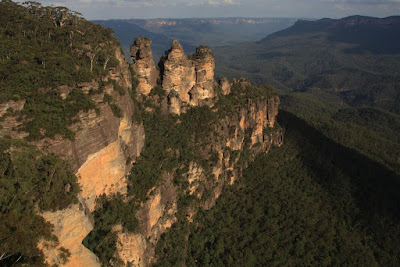 Vėl kitas pasaulis yra labai žymiame Sidnėjaus akvariume, be jokios
abejonės, geriausias, kuriam iki šiol teko lankytis. O gal pats geriausias
pasaulyje? Bent jau kai kas taip sako, turbūt tas ,,kai kas" žino.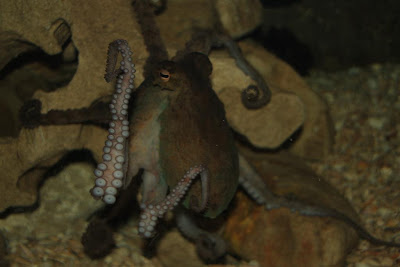 Įvairūs
žuviokai, medūzos ir kitas "šlamštas" tik įžanga pagrindinėi atrakcijai -
tuneliams po akvariumu su rykliais. Jei ne daugybė šurenančių žmonių aplink, būtų
visai nejauku. Dar ant informacinių lentelių parašyta, kad rykliai atrodo
mažesniais negu yra iš tikro.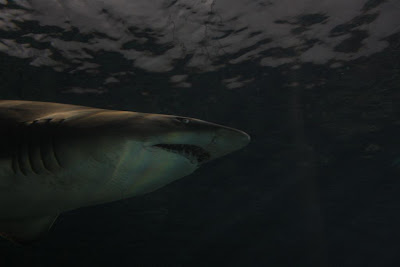 Gerai, kad akvariumas. Nors šitie neva minta
smulkiu maistu. Tik neaišku, kam tokie dideli dantys. Dantys susiję su valgymu,
todėl laikas dar vienam nukrypimui nuo temos.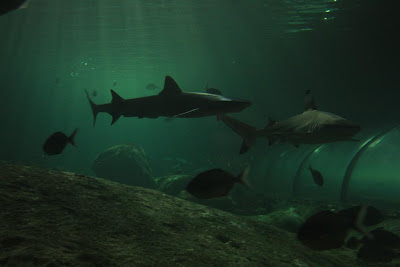 Keistas dalykas, dažniausiai pripaišomas JAV, tai žmonių masė. T.y. tai,
kiek žmonės sveria. Pirmą kart iš arti matėm nutukimo epidemiją. Iš arti -
visai nieko gero. Kone gali jausti, kaip lašiniais besirintančios bangos kelia
vėją. Dar nežinia, kaip svorio suvokimas susijęs su apsirėdimo drabužėliais pajautimu.
Gali būti, kad ryšys labai tiesiognis ir labai paprastas – niekas niekad nesako
pastabų dėl svorio, niekas niekad nesako pastabų dėl rūbų. Niekas niekad nesako
pastabų dėl to, kaip atrodai. Estetika ar vaizdo etika baisiai plati tema,
sukalta iš oro daugeliu atveju. Logiką pasitelkęs neįrodysi, kad banginis, teliuskuojantis
lašiniais, ryškiom aptemtom drapanėlėm susipaudęs besiritančius 130 kg,  yra normalus dalykas. Statistiškai
nenormalumo neįrodysi, taip pat, kaip ir logiškai. Dėl to, kad hamburgeriniu
planktonu mintanys, koloje plaukiantys lašinių rieduliai yra smarkiai paplitęs
žmonių tipas. Taip niekas ir nepastebėjo, kaip nutuko iki nepaėjimo. Todėl vis
dar apsitempia suknelę ir magiškai kliunksi kūno, kur jau nebesurasi pilvo,
rankų ar kojų, rinkėmis. Vienintelis arumentas prieš tokią išvaizdą tik tas,
kad didelis svoris nesveika kaulams, širdžiai ar dar ten kažkam. Žodžiu,
argumentas prieš tokį viršsvorį neturi nieko bentro su išvaizda. Kai kas sako,
kad jei esi nesveikas, nesveikai ir atrodai. Tai sutikim, kad nesveikas
atrodymas yra kartu ir negražu. Tada sutiksim su tuo, kad australai yra
negražūs, nes nutukę. Ir dažnu gatvėje prasilenkt yra pavojinga, nes didelės
masės kūnai sukuria aplink save gravitacinį lauką, todėl lengvesnis praeivis
gali tiesiog būti įsiurbtas storosios negandos.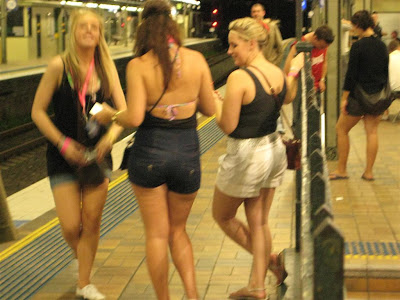 Kita maisto reikalo pusė, apie kurią sunkiai susiturės Danielius. Čia
rojus bet kam, kas nevalgo mėsos. Dar didesnis rojus tiems, kas nevalgo jokios
gyvulinės kilmės produktų. Parduotuvėse apsčiai yra veganiško sūrio, jogurtų,
visokiausių pusfabrikačių, mėsos pakaitalų ir ko tik nori. Kiekvienoje
parduotuvėje po nemažą, specialiai tam skirtą skyrių. Labai paprasta skaniai
gyventi.
Kitas dalykas - kalba. Australija yra pirma anglakalbių šalis, kurią
lankėm. Nė vienas neesam buvę Britų salose, kažkoks, lengvai pasiekiamas taškas,
iki kurio niekaip nenuvažiuojam. Tai ir pažintį su anglakalbiais pradedam nuo
Australijos. Keista, kad supranti ką žmonės kalba tarp savęs. Keista, kad gali
eiti bet kur ir susikalbėti. Anglų kalba, kuri dabar jau atrodo normali. Bet
kartais susimąstai ir išverti ką tik girdėtą poklabį sau mintyse, lietuviškai.
Pvz…
-
Ei, draugeli.
-
O, labas.
-
Kaip
einas?
-
Gerai,
puikiai. Kaip tu?
-
Jo,
fainai.
-
Tikrai?
-
Jo, kas
vyksta?
-
Jo,
mergike. Viskas puikiai.
-
O, kaip
nuostabu.
-
Jo..
-
Taip
gražiai čia gamini (maistą).
-
Taip,
maže, turiu skonį…
-
O,  tikrai?
-
Jo,
tikrai, mažule.
Na ir taip toliau, bereiklalingas marazmas, norint tiesiog pasisveikint.
Sugaišti, gal kelias minutes niekams tam, kad prasilenkt. Prasilenkiant dar
atsiprašai dėl to, kad prasilenki. Tuščiažodystė. Baisus dalykas.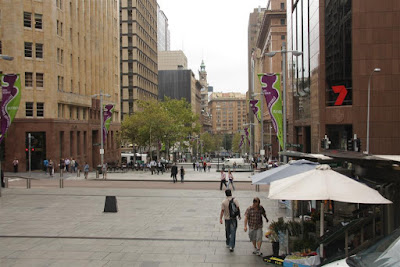 Apie atsiprašymus. Atsiprašyt reikia dėl visko ir visada. Kartą, labai
vėlai vakare, vispariniam makdonalde paprašėm obuolių pyrago (tas dalykas yra
valgiaraštyje), pardavėjas atsiprašė, kad neturi, tada paprašėm salotų (tokių
irgi yra) jis ir vėl atsiprašė, kad neturi. Netrukus ėmė atsiprašinėti
nepertraukiamai. Sakėm jam, nusiramink, čia ne tavo kaltė, kad kažko nėra, o
jis atsakė, kad blogai jaučiasi negalėdamas mums duoti to, ko mes prašom. Tai
bėdžius. Jam didesnė problema yra tai, kad negali mums parduoti kažkokio
pyrago, negu tai, kad pats jis dirba makdonalde. Išvis, visa Australija primena
tarybinį multiką apie tai, kaip yra svarbi kiekvieno profesija. Ir kiekvienas
bičas, kuris riša virves kelte, gaisrininkas, autobuso vairuotuojas, netgi
valytojas atrodo apsišiks iš garbės, kad dirba tokį darbą. Kiekvienas praeivis
pasisveikins, padėkos ir palinkės geros dienos šlavėjui, tas išdidžiai atsakys.
Visi darbai vertingi. Gražu. Gražu, jei būtų nuoširdu.
Iš Sidnėjaus važiavom į nepertoliausiai esantį Newcastle. Čia nėra
didelio išradingumo su vardais, daug miestų ar vietų vardų įkvėpti Britų Salų
vietovardžių.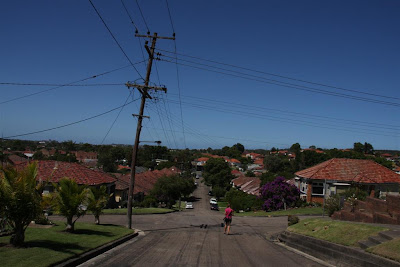 Tam mieste, kuris pasirodė beesąs visišku kaimu, ėjom į koalų ir kengurų
rezervarą, kuris buvo ne kas kita, kaip zoologijos sodas. Tad didelės prasmės,
ko mes ten važiavom, kaip ir nėra. Rezervate pažiūrėjom koalas ir dar kelis
gyvius, pagrinde paukščius. Dėl koalų Australai išprotėję, visas jas sugaudė ir
sukišo į tokio neva "rezervatus", kur jas veisia. Kai kuriose valstijose koalos
dar gyvena laisvėje, bet kažkas ten negerai yra, kad jos nyksta. Keista, kad
tokie padarai išvis gyvena. Nėra paslaptis, jog koalos yra, jei ne pats
durniausias, tai vienas durniausių padarų pasaulyje. Kai savo beprasmiškai
lakstančiom akim atsisuka į tave, žvilgsnio neiškalbingumas ir bukumas tik
verčia stebėtis, kaip jos dar neužmiršta kvepuot ar laikytis už šakos.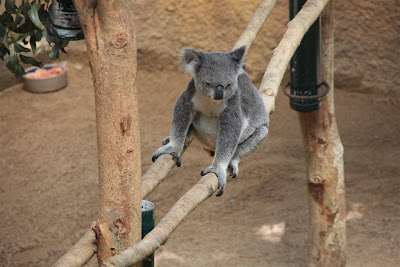 Musės
akyse šviečia daugiau intelekto. Su koalom reikalas tas, kad jos beveik neturi
smegenų. Motina gamta patupdė meškinus į eukalipto viršunę, kur negyvena jokie
plėšrūnai, tad galvot, kaip nuo ko pabėgt nereikia. Užtat reikia ėsti maistui
netinkamus lapus, juos suvirškint ir kažkaip detoksikuotis. Šitam reikalui ir
skirta visa koalos energija, smegenų veiklai jėgų nebepakanka. Rezervate šalia
koalų gyvena nuo durnos kompanijos nudurnėjusi pelėda.
Paukštį galima glostyti,
tąsyti ir viskaip kitaip judinti, o jam, regis, tai patinka. Arba visiškai
nerūpi. Galvojom, gal jam kas su sparnais ir negali paskrist vargšiukas, bet
skristi paukštis pelėda moka. Gal tingi be priežasties, o žmonės jam per menkas
akstinas.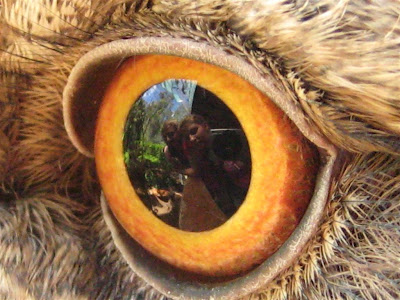 Iš Newcastle važiavom į Brisbane - miestą šiaurės rytuose, nutolusį per
beveik 800 km.  Nevažiavom, bet skridom. Dar
nebuvo tekę matyt tokio kainų marazmo, 12 val. kelionė traukiniu kainavo
gerokai brangiau, nei valandos su trupučiu skrydis. Ir kokios nors nuolaidos
čia niekuo dėtos. Skrydžio baimės kaina labai didelė.
Brisbane turėjom neperdaugiausiai laiko, tiesa, neperdaugiausiai ten veiklos
ir įmanoma. Pirmiausia važiavom dar į vieną rezervarą, kuriame buvo smagiau.
Dideliam garde galima buvo už ausų tampyti kengūras. Įdomus padaras kengūra.
Peraugęs triušis.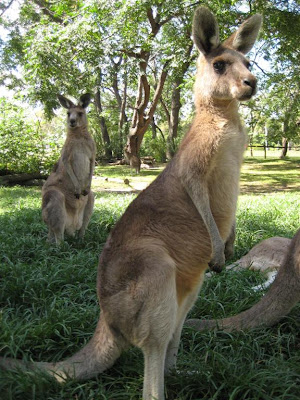 Bet labai miela su tokiais triušiais voliotis ar tūcyt juos
visaip. Žmogus šitom kengūrom ne kas kita, kaip kažkoks padaras, kuris ateina
pakasyt, paglostyt ir atneša kokio nors maisto. Nevertas dėmesio padaras. Buvo
įdomu dėl tokio požiūrio. T.y. kad to požiūrio visiškai nėra.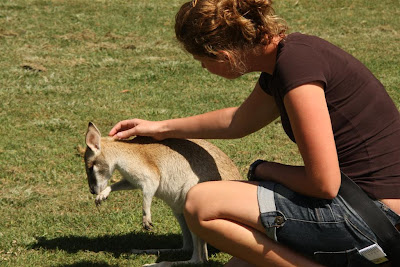 Gali daryt
kengūrai ką nori ir kaip nori, nelabai jai įdomu. Seni kengūrinai labiau
aikštingi, susierzina, atsisuka nepatenkinti jei palieti, taip pažiūri, kad
atrodo tuoj apibars. Visai ilgai tąsėmės su kengūrom, buvo smagu.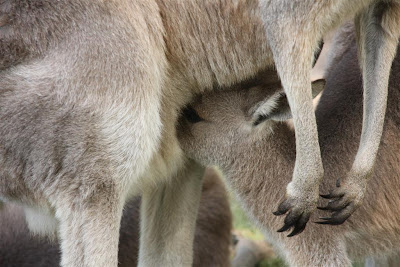 Be kengūrų rezervate buvo daug daug koalų. Jų liesti negalima, nebent
nusifotkint už mokestį. Tarp kita ko, čia didžiausias ir seniausias koalų
rezervatas pasaulyje. Eksponuojamos nuotraukos, kuriose su koalom įsiamžino
įžimybės: Sher, M. Manson, B. Gorbočiovas, Jonas Paulius II ir dar ten visokie.
Žymus, reiškia, rezervatas. Be koalų dar yra šunų dingo, smulkių žinduolių  ir sterblinių dargi visokių papūgų.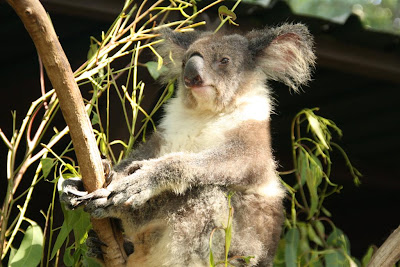 Vombatai ilsėjosi, savo dėmesiu niekaip nepamalonindami. Juokingai miega, vienok.
Nors
pagrindinis rezervaro akcentas buvo koalos, mumi žymiai labiau patiko kengūros,
todėl pas jas į gardą nuėjom dar kart ir sedėjom beveik iki rezervato darbo
pabaigos.
Brisbane dar atlikom pilną kultūrinę programą su muziejų ir meno
galerijų lankymu, prasmės tame nedaug, mene reikia nusimanyt, kad suprast kuo
Australų kubizmas geresnis už kokį nors kitą. Pabimbinėjom Brisbane dar šiaip,
visai jaukus miestas, kuriame nėr ką veikt.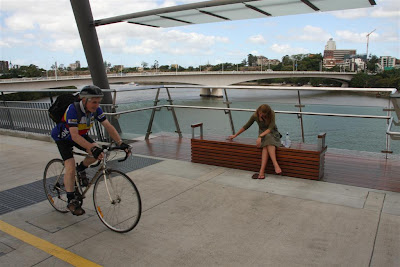 Neatsargiai suplanavom laiką ir maršrutą Australijoje, todėl nėr ko
stebėtis, kad įspūdis mums liko mažas. Kitą kart Australijoje reikės keliaut
mašina ar motociklu, nes gamtos jie čia turi parodyti labai daug ir dar labai
daug ką reik padaryti ir pamatyti. Bet neverta čia važiuoti be plačiai atvertos
piniginės ir daug laiko kišenėje, mėnesis būtų mažų mažiausia.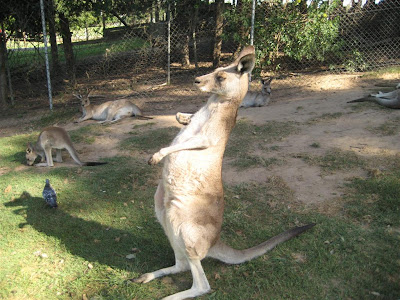 Iš Brisbano skridom į miestuką, kažkokiu keistu pavadinimu Christchurch.
Tas miestas yra Naujojoje Zelandijoje ir pareigingi Austalai niekaip nenorėjo
įsodinti mūsų lėktuvą, kol neturėjom skrydžio iš Zelandijos. Tokie mat
tionykštės migracijos tarnybos reikalavimai. Greičiausiai ne mes pirmi buvom prastai
susipažinę su taisyklėm, nes specialiai tam reikalui oro uoste yra aviabilietų
kioskeliai. Nepasidžiaugėm, kad reikia pirkti bilietą taip staiga, juolab, kad
mum reikalingas bilietas brangus ir pastaruoju metu kaip tik skirdavom nemažai
laiko variantams, kaip atsidurti Pietų Amerikoje, paieškoms. Bet čia pasisekė,
neaišku, kodėl gavom pigiausią iš iki tol matytų bilietų iš Naujosios
Zelandijos į Čilę. Tad nebuvo to blogo, tą kart. Įleido mus į lėktuvą ir
nuskridom į Kristaus Bažnyčią.
Rodyk draugams